Rejoice Eagles fans (and football fans for that matter) – the NFL season is upon us and the Birds are just days away from taking their first competitive snap since January.
---
After a long offseason that included major uncertainty of whether the environment would be safe enough to play, the NFL has managed to implement protocols that have kept the COVID-19 transmission rate to 0.46% across all players and staff.
Unfortunately for the Eagles, however, the injury bug has once again plagued the team. Starting with the loss of Brandon Brooks in early July, a slew of Eagles starters suffered some kind of injury including Javon Hargrave, Derek Barnett, Miles Sanders, Lane Johnson, Andre Dillard, Jalen Reagor, and even Carson Wentz. Fortunately, most of those players will be back by week 1, with the exception of Dillard who was lost for the season, and Raegor who's timetable has him returning by week 2-3.
---
With all injuries considered, here is a look and analysis of the potential Week 1 starting lineup.
---
QB: Carson Wentz
After taking a debatably dirty hit from Jadeveon Clowney in his last game, Carson Wentz will be coming out with a vengeance, starting week 1 with the Washington Football Team. Unlike years past, Wentz will have a fully loaded arsenal of playmakers at his disposal, so barring any injuries, this could very well be the best form of number 11 the league has ever seen.
He's also being backed up by a reliable arm in Nate Sudfeld, as well one of the most intriguing additions of the offseason, Jalen Hurts. This might just be the best QB room in the league, if not the best.
---
RB: Miles Sanders
Currently dealing with a hamstring injury, Miles Sanders will still reportedly be good to go for week 1 of his second year in the league. Sanders was a backup for the better part of his rookie season until Jordan Howard faced a prolonged injury, after which Sanders put together a remarkable late-season campaign. He finished the year with 1,314 total yards and 6 total touchdowns.
Considering the fact that the hamstring injury is minor, don't expect the 2nd year out of Penn State to slow down at all this year. He has a very good chance at becoming the first 1,000 yard Eagles running back since LeSean McCoy in 2014.
---
WR: DeSean Jackson, JJ Arcega-Whiteside*, and Greg Ward
The WR core may be arguably the most important position on this team in determining whether the team goes 9-7 for a third straight year, or vie for the number one seed. Fortunately, the front office did a really good job of retooling the entire corps by not just adding blindly, but adding young and speedy talent. DeSean Jackson will also be returning from the abdominal injury that kept him out of all but two games last season.
Currently, JJ Arcega-Whiteside is slated to start in week 1, but that will change with the return of Jalen Reagor. Regardless, JJAW has reportedly looked like a completely different player in camp, and if it translates into competitive play, Wentz could have another tool in his arsenal.
Lastly, the diamond in the rough from last season, Greg Ward is reportedly a lock for the WR3 role, and rightfully so; right off of the practice squad, the former QB turned wideout compiled 24 catches for 254 yards and a touchdown in 5 games. Depending on how well the health of this squad holds up, they have a chance to be a top 5 corps in the league.
---
TE: Zach Ertz
The starting TE on the Eagles hasn't changed in 7 years, and even in 2020, still won't be changing. Zach Ertz has been a top 3 TE in the league for four years now and is still getting better. There hasn't been a single sure-handed target on Eagles like Ertz since he joined the team back in 2013, as he's always provided the offense with a big catch down the middle when they've most needed it.
Now, with Ertz's contract extension talks heating up again, you can expect him to have a motivated 2020 season.
---
Check the Eagles' Week 1 odds against the Washington Football team with bestsportsbooks.co!
---
Offensive Line: Jason Peters, Matt Pryor, Jason Kelce, Lane Johnson, Isaac Seumalo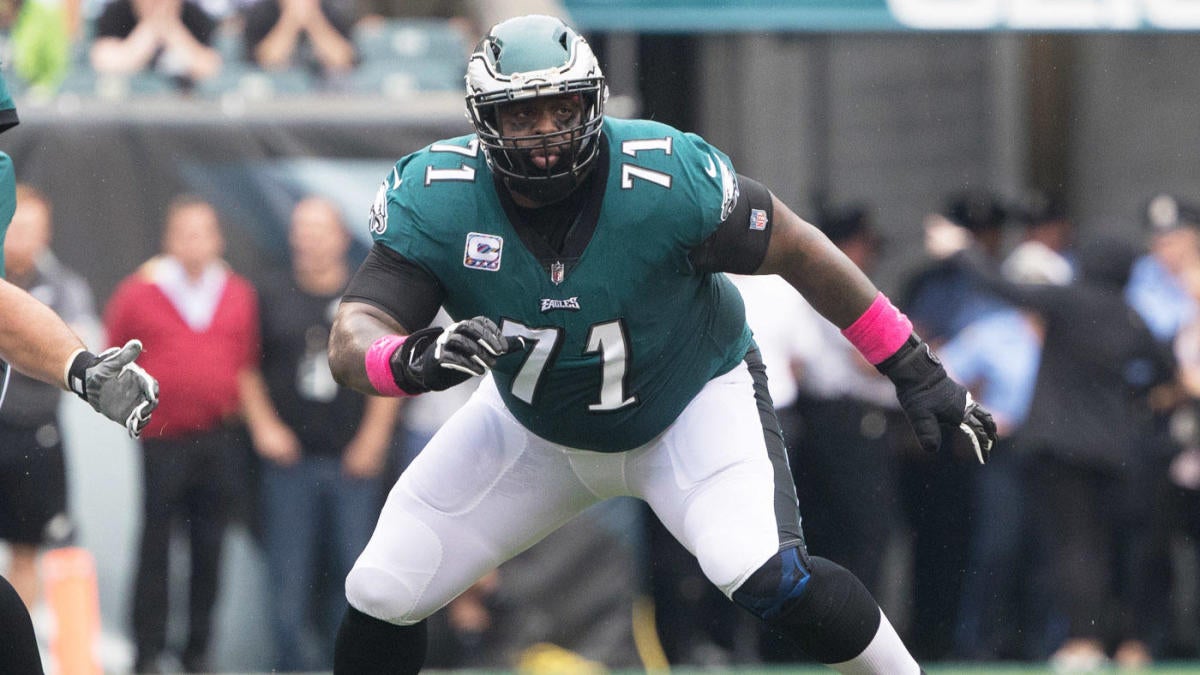 The offensive has been the by far the shakiest unit per numerous reports out of camp which is not something you like to hear when the Eagles have ridden the success of adequate pocket protection and running gaps for years. Unfortunately, that's what happens when two projected starters on the line are out for the season.
To add on to the line's injuries, Matt Pryor, who the Eagles will roll with as the starting LT, has been absolutely abused in practice by Josh Sweat, and Jason Peters, a guy who's had a hall of fame career as a LT, wants more money to switch back from guard to tackle. Lane Johnson has also missed practice for the past week with a lower-body injury, but both he and coach Pederson said that he'll be starting come week 1.
Overall, it's not looking too good for what was one of the best, if not the best, offensive lines in football last year.
---
Defensive Line: Derek Barnett, Malik Jackson, Javon Hargrave, Fletcher Cox, Brandon Graham
Since the arrival of Jim Schwartz in 2016, the Eagles defensive line has consistently been the best position group on the entire team. They've ranked top 10 in rushing yards allowed for 3 straight years now and will get even better this year with the addition of nose tackle, Javon Hargrave.
Malik Jackson also missed the entire season last year after the first game due a foot injury, so getting him back will strengthen the line more. For fans, this should be the group of least concern.
---
Linebackers: Nate Gerry, TJ Edwards, Davion Taylor
Jim Schwartz runs a 4-3 defense, so naturally, the linebacker core has never really been a point of emphasis in his tenure. This year, however, that could change; the Eagles took three linebackers in the draft, all with incredible athleticism, in Davion Taylor, Shaun Bradley, and Casey Toohill. All three have reportedly been shining in camp, and could very well make the team.
Nate Gerry, a guy who had a major mark of improvement in 2019, and TJ Edwards who flashed good tackling skills in his rookie years, will also be returning,. Even without seeing them in action, this is the most serviceable group of LBs the Eagles have had in a while.
---
Cornerbacks: Darius Slay, Craig James, Nickell Robey-Coleman
The Eagles have consistently had a bad secondary dating back for almost a decade now. Howie Roseman finally said he had enough and went out and traded for an arguably top 5 cornerback in Darius Slay, as well as adding one of the top-rated slot corners in Nickell Robey-Coleman. It may not be perfect, but it's leagues better than years previous.
Right now, the CB2 spot is still up in the air, but the recent extension of Craig James, indicated that they they would like him to play in that role with Avonte Maddox hurt. When Maddox gets healthy though, he'll slide back into the second corner spot.
Either way, teams won't be burning this defense on every 3rd down anymore.
---
Free Safety: K'Von Wallace
Before Will Parks' injury, I would have said he'd get the starting job FS due to sheer versatility. Now, the rookie might just get the call to start on opening day.
He's competing with a veteran in Jalen Mills, who's original position is FS, but considering the praise Wallace has gotten in camp, it looks like he's the man for the job.
---
Strong Safety: Rodney McLeod
No surprise here. Rodney McLeod doesn't really have any competition for the SS spot, so he's a lock to start for the season.
McLeod resigned this past offseason for a two-year, $8.65 million deal. He's been a quiet yet useful member of the Eagles secondary since signing in 2016 and will continue with his veteran presence.
---
Featured Image: ---