Andy Reid vs. Tom Brady may seem like a no-brainer, but your style of fandom might suggest otherwise.
---
The Tampa Bay Buccaneers face what has become the most daunting task in football: stopping Patrick Mahomes. The young gunslinger is widely considered the most talented player in the sport, breaking records with ease. Kansas City knows this, as demonstrated by the half-a-billion dollar contract he signed this offseason.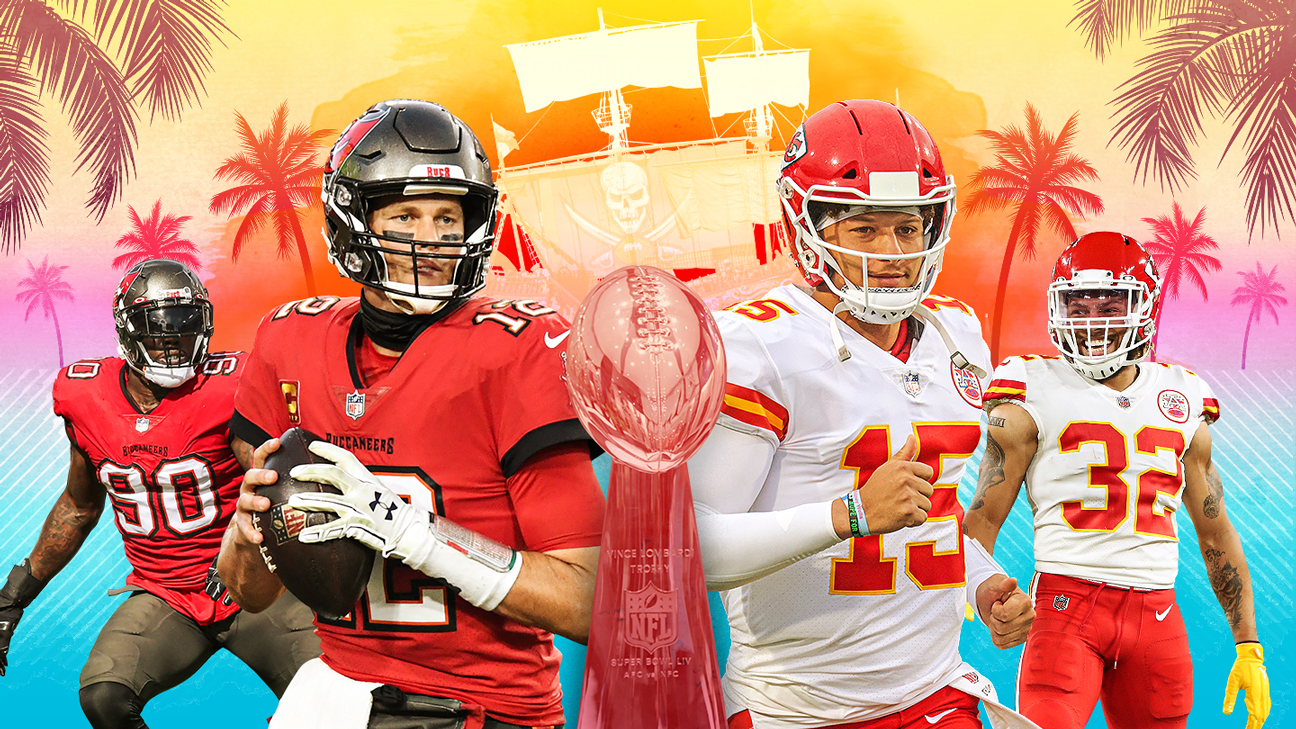 All of this will take place on the grandest stage in sports: The Super Bowl. Super Bowl LV kicks off this Sunday at 6:30 PM EST, headlined by The Weeknd's halftime show. For 30 fanbases, it will be a frustratingly meaningless game. Despite that, it is all but guaranteed to break its own standing record as the highest-rated television event in history.
Fans and non-fans alike join hand in hand like the Who's in Whoville, united by a love of drinking a lot and eating amazing food with friends. The pandemic will make this a more isolated event than usual, but the point remains.
---
Many have already chosen a side, but for the less decisive, here is a rooting guide for which camp to set up your tent in.
Whether you bleed Bucs or haven't watched a football game since Shakira and J-Lo crushed it at Super Bowl LIV, this guide will help you know where your loyalties ought to lie.
---
You're All About Coaching…
On one side, we have Bruce Arians. Bruce (yes, we are on a first-name basis) is a Jersey boy at heart, explaining his overconfident and brash coaching style. He's from Paterson, though, so you know he grew up a Giants fan. Redeemably, he is also a Temple guy, having served as their head coach from 1983 to 1988. He actually coached Todd Bowles as safety in. that time, albeit while accumulating a 27-39 record. Six wins were forfeited when it was unearthed that RB Paul Palmer had signed with a team before the season starts, so he's really just 21-39. Nothing to bring home to mom.
DRUMROLL PLEASE! In the other corner, you know him, you love him, the one, the only, ANDYYYYYYY REEEEEEEEEID!!!
Reid is originally an LA guy, growing up in Dodgers Stadium's shadow and working as a vendor there. His first primetime appearance took place long before his coaching career began; he was featured in a Punt, Pass, and Kick competition on CBS. The dude had a cannon. Guess how old he is in that video. 14. Biggest 14-year-old I've ever seen.
We Eagles fans were first introduced to Big Red when he was hired from the Packers' QB Coach and Assistant Head Coach gig. Within two years, he was the Vice President of Football Operations and a dominating force in the NFL. He has made the playoffs in all but 6 of his 22 seasons head coaching, with 11 of those being Division Title years across both the NFC East and AFC West. Like Mahomes' reputation at quarterback, Reid is paced to go down as an all-time legendary head coach.
---
He is a simple man who likes three things: hamburgers, floral shirts, and his wife. He is impossible to hate by any metric.
I mean, listen to how he celebrated his first Super Bowl title:
Reid: "I didn't spend the night with the trophy. I spent it with my trophy wife."

— Adam Teicher (@adamteicher) February 3, 2020
---
The Reids have been together for 38 years. They go together like Andy Reid and the playoffs.
If you love good coaching, root for Kansas City. It's a win-win, but still.
---
Your Love of Philly Guides You…
Who cares about either of these teams, right? You love Philly first and foremost, and that won't change anytime soon.
Good news: there are still Eagles to root for in the Super Bowl! LeSean McCoy joins the aforementioned Andy Reid as the two most prominent former Eagles on either roster. After winning his first Super Bowl with the Chiefs last season, McCoy is now facing his former team and two-time former coach as a Buccaneer. To that end, this is a coin toss: do you love Shady McCoy and that legendary Snow Bowl, or are you a Reid Loyalist who believes Big Red can do no wrong? In other words, are you older or younger than, say, 30-years-old?
If your love of Philly guides you, and you're a millennial or older, root for Reid and Kansas City. Otherwise, join the pirate crew with McCoy and Tampa Bay.
---
You Love Offense…
You're all about fantasy football and running up the scoreboard. This may come as a surprise, but the team boasting Leonard Fournette, Ronald Jones, Antonio Brown, Mike Evans, Chris Godwin, Rob Gronkowski, Cameron Brate, and, oh yeah, the most accomplished quarterback to ever play the game, is the lesser option here.
The Chiefs are built to force shootout frenzies and built to win them. With a top-heavy roster at the skill positions, they can beat you at every level. Drop two safeties back and bracket Tyreek Hill? Travis Kelce will punish you across the middle.  Hold the Pro Bowl tight end down with extra coverage? Mahomes will beat your corners with his precision. The last time these two teams played, Mahomes dropped over 200 passing yards… in the first quarter.
If you like scoring, root for Kansas City. 
---
You Love Defense…
This one is almost a true toss-up. Tampa Bay certainly holds the superior defense, ranked top-5 in the league by most measures. KC is no joke, however, and has the cornerback play and safeties to punish mistakes. Additionally, as Mina Kimes noted on ESPN Daily, Steve Spagnuolo is 5-3 when facing Tom Brady — not something many Defensive Coordinators can boast.
With Mahomes poised to bully Todd Bowles & Co. and Tom Brady ready to go shot for shot against Tyrann Mathieu and the KC defense, this has the potential to break Super Bowl LII's offensive yardage total. And while Tampa has the superior defense, Brady is coming off a three-pick game against the 13th ranked Packers defense.
If you like defense, root for Kansas City.
---
You're Like the Rest of Us…
…and just really don't want to see Tom Brady's smug little grin as he hoists a 7th Lombardi trophy, just root for the Chiefs. He is just the worst. Look no further than this infamous video featuring his transactional relationship with his son or the fact that his daunting resume is built on a foundation of cheating. He is the perfect contra to Andy Reid's likability.
If you also just hate Tom Brady, root for Kansas City.
---
You Love an Underdog…
You'd think root for Kansas City, given the alternative is like hoping Bill Russell wins another NBA Title, yet here we are. Brady's Bucs are +3.5 point underdogs, making this just the third time in his nine trips to the big game where he is not favored to win. Hell, Tampa Bay wasn't even favored to win their division.
Since 1975, only one 5th seed has won the Super Bowl… the same New York Giants who upset New England's 2007 perfect season.
---
Could Brady manipulate the model used against him and take down a titan? When the GOAT is slinging the ball, anything is possible.
---
Add on top of the seeding, Tampa is awash with players who have been neglected. Leonard Fournette, dubbing himself "Playoff Larry," is the Jacksonville Jaguars passing on their former 1st-round pick in the offseason. Ronald Jones is making himself a household name against the odds. Even Bruce Arians is an underdog, playing a high-risk, high-reward style that has yet to be rewarded at this level.
The alternative? The reigning champs.
If you love an underdog, root for Tampa Bay.
---
You Hate Dan Snyder for the Right Reasons…
---
It has to be said: Kansas City should change its name. This season opened with players taking a knee in Week 1 and getting booed by their fans.
---
Hat tip to the players, but a fanbase who loves the tomahawk chop and boos calls for racial equality is… something. I don't want to speak on behalf of all pirates, but there isn't much about the Buccaneer mascot that really disparages anyone.
skeleton rights activists have entered the chat
If you hate Dan Snyder for the right reasons, root for Tampa Bay.
---
You Like Breaking Curses…
No team has ever won the Super Bowl on their home turf, let alone played in it. The last team that came close lost to the Eagles 38-7. With the Bucs having already made history, they might as well go all the way and win the damn thing.
Now there's something to be said about the scheduling practices of the NFL benefiting the chances of a Southern and/or indoor team breaking this curse, but who really cares?
If you like breaking curses, root for Tampa Bay.
---
You're in It for the Music…
The Weeknd joins Shania Twain and Dan Akroyd as the third Canadian to perform at the Super Bowl. If you love universal healthcare, this won't be a halftime show to miss. With that in mind, The Weeknd will be one of just two Canadians featured at the game whatsoever.
Tampa Bay's Antony Auclair, lining up at the tight end, is the only other active player on either team who hails from Canada or has ever played in the CFL. His career numbers over four years are 10 receptions for 84 yards, none of which came this year. Kansas City's Dr. Laurent Duvernay-Tardif, a tackle, opted out of the 2020 season to use his medical degree for good during the pandemic.
---
He won Super Bowl LIV with the team last year but will watch from the ICU this year.
Sunday pic.twitter.com/U4TCfPmnJy

— The Weeknd (@theweeknd) February 5, 2021
---
If you're in it for the music and followed any of that nonsense, I just spewed that somehow ended up as Justin Trudeau propaganda; root for Tampa Bay because they have a Canadian. Or Kansas City because they had a Canadian who actually played, but now he's doing something so, so good. Or just enjoy the halftime show. 
---
You're in It for the Commercials…
Baker Mayfield may make a couple more off-air cameos, or this horrible Uggs commercial makes a revival; Patrick Mahomes has to be your guy here. He has paired with Troy Polamalu in Head and Shoulders commercials and is taking the helm from JK Simmons in State Farm commercials, and sure, he sounds like Kermit the Frog is still awaiting puberty, but that's some solid screen time.
If you're in it for the commercials, root for Kansas City.
---
Featured Image: Diario AS