They've turned a 2-5 start to the season to 9-7 and a playoff berth.
---
Even if the Eagles lose in the first round, it wouldn't take anything away from how masterfully the Eagles front office has turned the franchise around.
---
After all the Carson Wentz drama in the offseason and all of the dead cap money that was still on the books, suddenly the future is bright.
Most dead money this season:

2-13-1 Lions ($66M)
9-7 Eagles ($64M)
5-11 Panthers ($53M)
4-12 Texans ($49M)

For the Eagles to make the playoffs in a rebuild year — with Carson Wentz as their highest-paid player ($34M) — is a remarkable achievement.

— Paul Hembekides (@PaulHembo) January 3, 2022
---
The Eagles will head into 2022 with 11 draft picks, 3 being in the first round. The Eagles have also done a tremendous job locking up their young talent for years to come.
Early in the season, the team signed left tackle Jordan Mailata to a four-year 64 million dollar extension, along with Josh Sweat, Avonte Maddox, and Dallas Goedert, who all inked extensions through 2025. 
---
Here's a better look at how good the Eagles have done at managing their cap and locking up key players that were set to be free agents.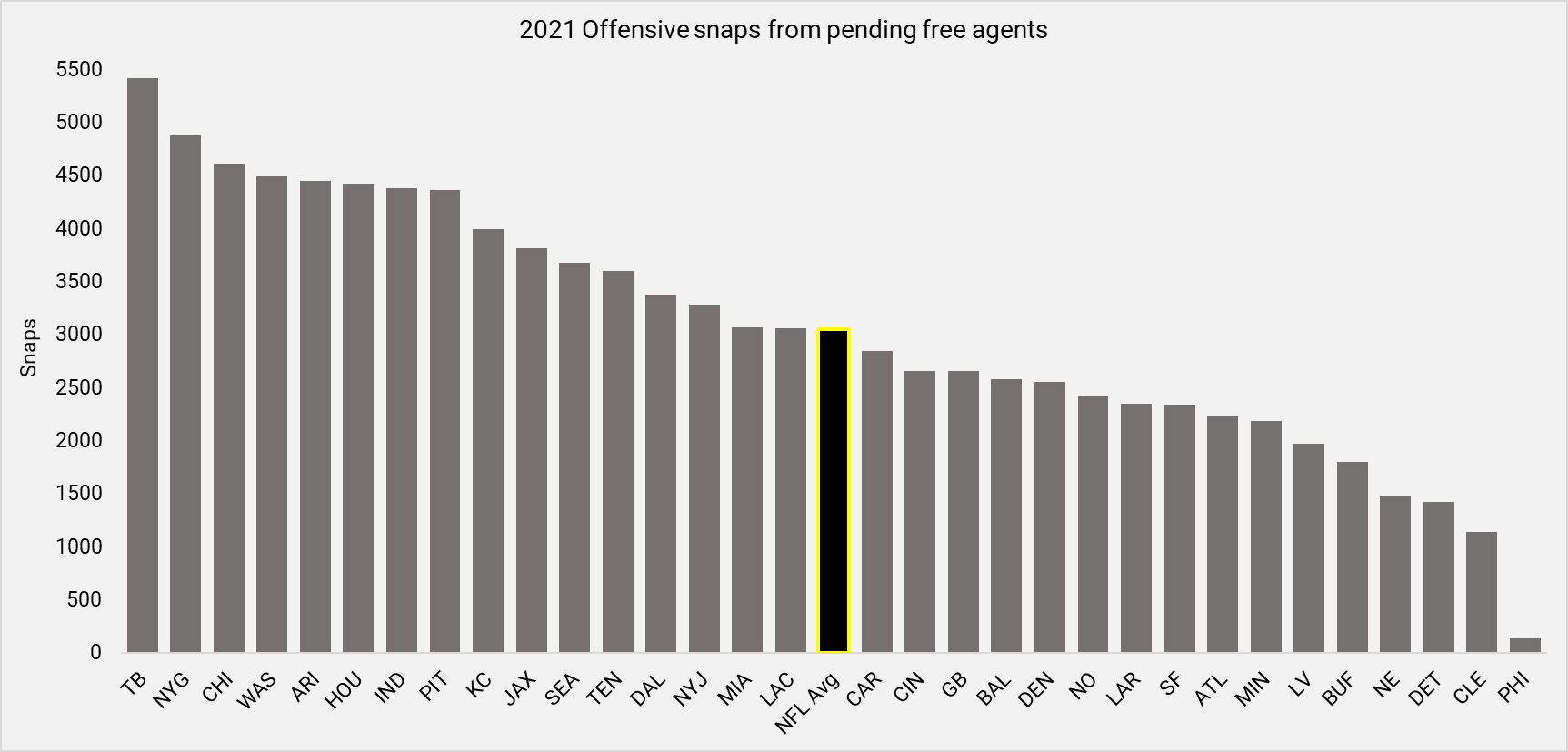 ---
With a lot of their homegrown talent being locked up for the future, the focus may shift to free agency, and there's one clear position that needs upgrading this offseason.
If there's one glaring weakness of the Eagles, it's definitely their pass-catchers. The run game has been fantastic, and the defense has rounded into form. But game after game, the elephant in the room is the receiver talent that is severely lacking. Outside of rookie stud Devonta Smith and Dallas Goedert, the Eagles' offensive weapons leave a lot to be desired.
Thankfully, the free agent class of wide receivers is loaded.
---
Here's a shortlist of some of the wide receivers that are set to be free agents in 2022: Allen Robinson, Davante Adams, Chris Godwin, Will Fuller, Odell Beckham Jr, Juju Smith-Schuster, Mike Williams, Christian Kirk, Michael Gallup, Allen Lazard, Jakobi Meyers, etc. 
Top 2022 Free Agent WRs:

1) Davante Adams
2) Chris Godwin
3) Allen Robinson
4) Odell Beckham
5) Michael Gallup
6) Antonio Brown
7) Mike Williams
8) DJ Chark JR
9) Juju Smith Schuster
10) Christian Kirk

Others: Fuller, Gage, MVS, Crowder, TY, E.Sanders

— Wolf of Roto Street (@RotoStreetWolf) December 20, 2021
---
Okay so maybe not so short of a list. But that's only good news. There may have been a few I missed, but any of the guys I listed above would be upgrades over Quez Watkins and Jalen Reagor. The top-tier guys like Allen Robinson, Davante Adams, and Chris Godwin may be a little far-fetched because of their larger contracts. But the Eagles have shown to be very competent in their ability to move money around and make space.
Allen Robinson will definitely be looking to leave Chicago after one of the worst seasons of his career, mostly due to injury, quarterback play, and Matt Nagy. He desperately needs a change of scenery, and Philadelphia could be the perfect place for him if they could work out the money side of things.
---
He'd be the perfect number one to pair with Devonta Smith, and I really think he would succeed in Philly.
Bears WR Allen Robinson is now scheduled to head into free agency at the age of 27. Over his past two seasons, he has 200 catches for 2,397 yards and 13 TD.

He has a nasty skillset of route running, contest catch making and red zone prowess seen in these plays below. pic.twitter.com/NtLJZ6cz6S

— Field Yates (@FieldYates) January 11, 2021
---
But like I said earlier, Robinson is currently on a 17,880,000$ annual contract, and there will most likely be teams with more cap space that will be able to outbid the Eagles. So with the top three aside, there are a few under-the-radar signings that could drastically improve the Eagles passing offense heading into 2022.
---
Here are a few of my favorite and most realistic free agent wide receivers that the Eagles should target this offseason.
---
1) Christian Kirk
Christian Kirk has quietly had a great season for the Cardinals, raking in 75 receptions for 939 yards and 5 touchdowns.
---
He's filled in beautifully for Deandre Hopkins through his injuries and has quickly become Kyler's favorite wide receiver target when Hopkins misses games.
Kyler Murray has fed the following players more than three targets in two games since losing DeAndre Hopkins (knee):

Zach Ertz: 24 targets
Christian Kirk: 21
Antoine Wesley: 11
A.J. Green: 11
Chase Edmonds: 10

Ertz went 4-53-1 against this very Cowboys defense back in Week 3

— Ian Hartitz (@Ihartitz) December 29, 2021
---
Kirk is only 25 years old and can play anywhere on the field. He's shown he's a lethal down-the-field threat, along with being able to slide in the slot and be efficient in short and medium-yard situations.
---
He'll be looking for a much larger annual salary than his current 1,473,717 one, but I think he's an under-the-radar target that the Eagles should consider.
Kyler Murray with a 43-yard dime to Christian Kirk! @k1 @ckirk

?: #AZvsDAL on FOX
?: NFL app pic.twitter.com/oVi7S119dF

— NFL (@NFL) January 2, 2022
---
2) Jakobi Meyers
Jakobi Meyers is another guy that I think would fit in great with the Eagles. He's become a security blanket for rookie QB Mac Jones and has become one of the league's better-possession receivers. He currently has 79 receptions for 796 yards and 2 touchdowns.
Meyers is also 25 and looking for a new contract in the offseason. Just like Kirk, the home teams will have the most leverage for free agency in terms of the contract they can offer.
---
If Meyers doesn't return to the Patriots, I think he'd be another tremendous upgrade for an Eagles team that desperately needs a slot presence.
Jakobi Meyers has more receiving yards (1,884) in his first three seasons than any wide receiver in the Bill Belichick era. He surpassed Deion Branch (1746), but it should be noted Branch played nine games in his third NFL season.

— Mark Daniels (@MarkDanielsPJ) January 4, 2022
---
3) Michael Gallup
Michael Gallup is an interesting free agent target. Unfortunately, he tore his ACL last week, which will end his season, but he's expected to make a full recovery and be back at some point in 2022. His injury may be a cause for concern, but if he can return at some point in 2022, he'll be able to contribute. He hasn't had a great season, only recording 35 receptions for 445 yards and two touchdowns up to this point, but he's shown more capable in the past. He's recorded 60+ catches in his last 2 seasons before this one, including 2019, where he caught 66 balls for 1,107 yards and 6 touchdowns.
Injuries aside, Gallup is also only 25 years old, and his 6'1 lengthy frame has allowed him to become Dallas' best vertical jump ball threat the last few years.
---
He's a different receiver than anything the Eagles currently have on the roster. Giving Jalen Hurts a big down-the-field target could benefit Devonta Smith and Goedert in the middle of the field passing scenarios.
Michael Gallup absolutely is one of the best in the league at throwing that shoulder back and contorting for these acrobatic sideline catches pic.twitter.com/oaNdWfa0JA

— Josh Norris (@JoshNorris) January 2, 2022
---
All in all, it's clear the Eagles need to address the receiver position this offseason. Devonta Smith has been a home run pick, and he'll be a staple in this offense for a long time. But he can't do it on his own.
DeVonta Smith is 92 receiving yds away from beating the Eagles Rookie receiving yds record, set by DeSean Jackson in 2008 (912 yds)

He's also 179 yds away from being the first Eagles WR to reach 1000 yards, since Jeremy Maclin in 2014 (1318 yds)#FlyEaglesFly | @DeVontaSmith_6 pic.twitter.com/0aUXJZYmBd

— On The Road To Victory with Jimmy Smith (@OTR2Victory) December 27, 2021
---
The Eagles need to give Jalen Hurts better weapons to properly evaluate him and determine whether or not he can be the quarterback of the future.
With his limited arsenal this season, it's a great sign that he's led them this far, and how he plays in the postseason will tell us a lot.
---
If this team wants to contend for a Super Bowl in the future earnestly, they need to upgrade at the wide receiver position, and this year's free agent class provides the perfect avenue to do so.
---
Featured Image: Emilee Chinn/Getty Images